Jordan Creative News Blog
Jordan Creative is a full-service web design and online marketing agency based in the Bay Area, California.
Why Should I Care About a Mobile Site? In 2021, mobile web design is essential. Mobile devices have completely revolutionized the way we connect with each other, and as a result, changing the entire business game. Most people are now foregoing the laptop or desktop...
read more
The California Consumer Privacy Act (CCPA) was passed into law in 2018, the most comprehensive data privacy law yet in the United States. The law took into effect January 1, 2020, and will require all U.S. companies to implement a number of initiatives in order to...
read more
An optimized Google My Business profile is a crucial component of SEO. Making sure your Google My Business profile is fully updated and optimized ensures that your business maintains its competitive edge. It's not only important to claim your business listing on...
read more
Website security should be a top priority for all website-owners – especially those in e-commerce. In e-commerce operations, you should ensure that your website is secure for your clients. A safe website should of course be a priority to protect your clients' privacy,...
read more
Ever wondered how much information the websites you visit save about you? Many websites have utilized browser fingerprinting as an extremely accurate way to identify and track your information. The European Union, wary of this nefarious method of bypassing cookie...
read more
Website authority, or domain authority is measured on the basis of a website's popularity, which is directly correlated to the amount of external links. If your website has a good domain authority score, that means it ranks higher on search engine result pages. Your...
read more
Setting Goals and Benchmarks In creating a website, the creator has done so typically in order to achieve a particular function; whether that be to sell products, advertise, or generate viewers or readers. However, the success of a website–whether it is doing its job...
read more
The Internet can be a dangerous place, and there is no such thing as 100% security. Most of us will end up suffering an infection from malicious software at some point. Even the most security-conscious user, and even someone who never clicks on any kind of email...
read more
I press down on my iPhone 7's home button until a slate black screen with the bright letters "What can I help you with?" pops up. Clearing my throat, I ask casually, "Siri, what's the nearest place to grab a bite to eat?" Within seconds, the screen fills up with a...
read more
Four Ways to Improve your Website′s Search Ranking (SEO) Follow these suggestions, and watch your website rise to the top of the search results. Publish Relevant Content and Update Regularly Quality content is the number one driver of search engine rankings and there...
read more
At the beginning of 2017 Google and other search engines will begin paying more attention to sites that are secured with SSL certificates. In the next few years sites that are not encrypted with an SSL certificate may even be blocked. It is especially important to...
read more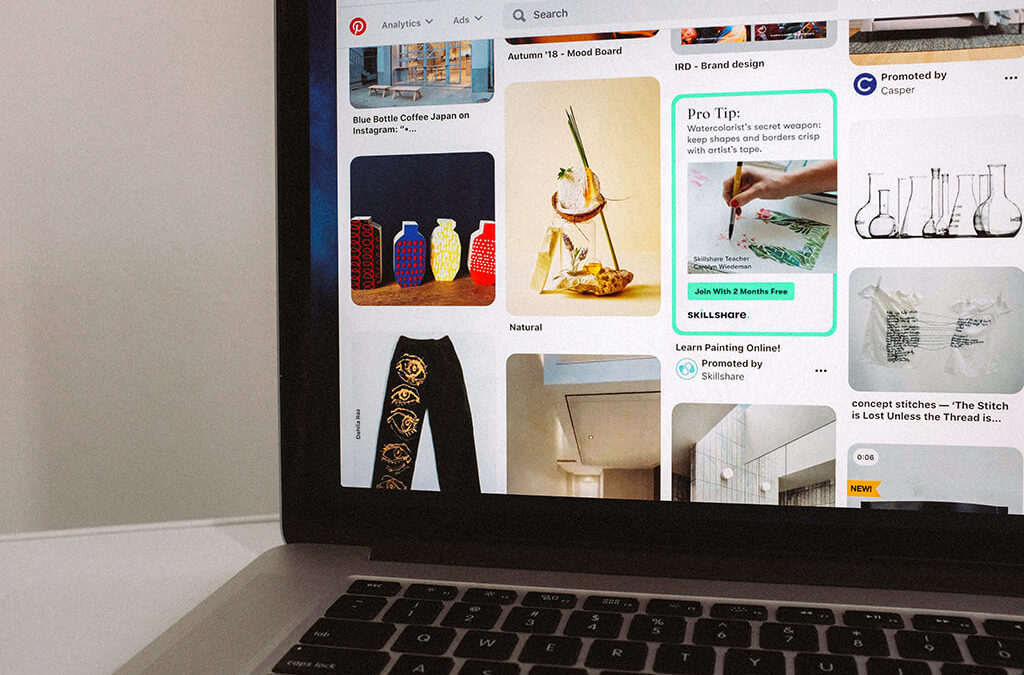 Did you know that Pinterest isn't only good for pinning wedding planning ideas, cute craft projects, and recipes? Pinterest can also be a powerful tool to promote your business. As the fourth most popular social media platform in the United States, the app can be a...
read more
As they say, a picture is worth a thousand words. In the world of digital marketing, the age-old axiom still rings true. The most competitive major retailers and global brands are dipping their toes into visual search as an alternative search pathway to brand...
read more
The COVID-19 pandemic has shown the necessity of an online presence to conduct business, especially for small businesses. With most of us sheltering in place, shopping and business has moved to the digital sphere. Many small business owners who operate primarily...
read more
It's no novel statement that the ongoing COVID-19 pandemic has forced all kinds of businesses – large and small – to adapt, adjust, and even entirely re-invent themselves in light of the situation. In the most extreme and unfortunate situations, some businesses have...
read more
Be it a hunt for the best plate of sushi in town, the best dentist, or audio technician, Yelp can be a great tool for people to find professionals and stores nearby. A positive review can really boost your credibility, more customers coming to your business as a...
read more
Amazon has long been understood as the hegemon in the e-commerce world – it holds 49.1% of the U.S. e-commerce market share, boasts 300 million active users, and billions of online profits earned per year shows the proof in the pudding. With its increased focuses on...
read more
It can be easy to focus on perfecting the details of your website – in fact, a sleek, attention grabbing website, with intuitive navigation, clean design, backlinks, and attentive search engine optimization may seem nearly perfect. However, if your website is slow,...
read more
Founded in 2006, Twitter has become a veteran social media platform of the internet and powerful tool for celebrities and athletes to communicate and engage with their fanbases in succinct 280 character 'tweets.' Today, Twitter boasts 336 million users and counting,...
read more
One of the most popular social media marketing websites today is Instagram. Don't be fooled by its novelty–Instagram isn't just used for funny cat videos, vacation pictures, or selfies–it can be a useful tool in marketing your website, especially to millenials and...
read more
Why Conversion? As an entrepreneur, obviously your goal with an online website is to increase sales. Building a website and gaining traffic is one thing, but visitors to your website actually buying your products is another. Earning the sales, getting a visitor to...
read more